The Muenster Hornets knew Saturday's foe Bosqueville would be their stiffest test of the postseason to date.
The Hornets opened the best-of-three regional semifinal series with a 4-1 win on Thursday, but Game 2 on Saturday in Kennedale was a little more dicey.
Muenster jumped out to a 3-0 lead, but late in the sixth inning, Bosqueville forced a bases-loaded situation down 4-3.
Senior pitcher Brandon Sicking relieved starter Parker McGrew and got the Hornets out of the jam to come away with the 4-3 victory to advance to the regional final against Bells on Friday.
Highlighting one of the main reasons the Hornets were victorious in head coach Josh Wheeler's opinion was the fact that they didn't commit an error in either game.
"It goes back to knowing Bosqueville was really good and that we had to play a really good game," Wheeler said. "I think we were errorless through both games. Anytime you give up four runs in two games, with our offense, I feel like we have a really good shot to win."
Sicking, who also picked up two RBIs in the first inning, earned back-to-back saves against Bosqueville and Wheeler was quick to credit him.
"Brandon has really done a good job," Wheeler said. "Against Brock, he pitched four scoreless innings. That's a lot of pressure playing a team like that. Then, he finished off Game 1 in the sixth inning and in Game 2, he got out of the situation with a really good hitter up. He's done a hell of a job."
Wheeler has frequently said the key to success is the combination of good pitching, efficient hitting and lockdown defense.
That was the case over the weekend.
"We played really good defense," Wheeler said. "We pitched well. We only had four hits in the game, but we scored four runs. They made one error, but we didn't make one. We played a really solid game. We could have got beat if they made all their plays, but we scored when we had to."
Prior to Thursday's Game 1, the Hornets had won their previous five games with double-digit runs by a total margin of 57-6, so putting up four runs in each game against Bosqueville was a stark change.
However, Wheeler said that was to be expected with the competition the Hornets faced.
"The further you go, the less runs you're going to score," Wheeler said. "The defenses are better and the pitching is better. That's why Bosqueville is there. Last year, we scored six and three runs against Lindsay in the regional final and we scored one and six runs in the state final. You're not going to get as many runs and it's hard to hit. In my opinion, it's the hardest thing in sports."
Still, despite the leap in talent, Wheeler said the team could have hit the ball better.
"We've got to hit line drives and ground balls," Wheeler said. "I have faith in our guys that they are really good hitters and that we'll get hits when we need to get hits. I'm not a big bunting guy. If we get runners at first and second, I'll bunt, but it depends on the situation. One inning in particular, we got the leadoff guy on and hit a fly ball and fouled out. The pitcher wasn't dominate, so we should have been hitting better."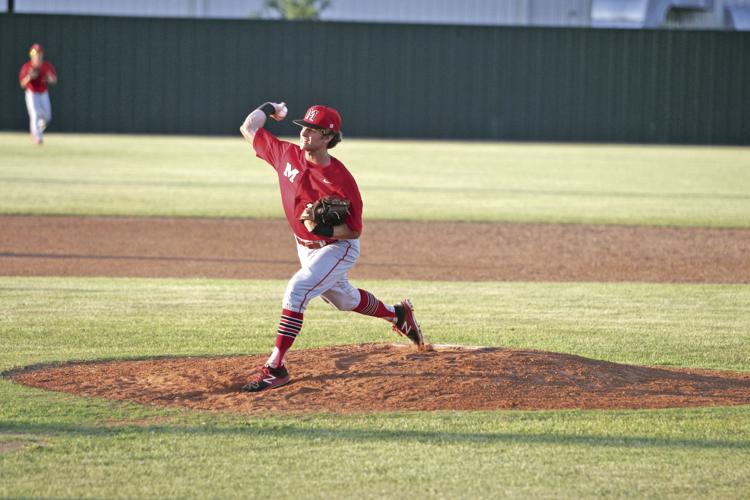 On the pitching side of things, the Hornets' go-to starter McGrew had a productive outing according to Wheeler.
"Parker pitched well," Wheeler said. "He battled. It was really hot and nearly 100 degrees. You get drained easily, especially in a long inning. He had a couple of stretches where he walked a couple, but for the most part, he really battled. I don't know if his curveball command was there, but he did throw strikes and got us out of innings."
Muenster will face Bells in a one-game playoff at McKinney North High School at 7:30 p.m. on Friday for a trip to the state tournament in Austin on the line.
Patrick Hayslip can be reached at sports@gainesvilleregister.com or on Twitter at @PatrickHayslip