The Muenster Hornets couldn't have asked for a better, more relaxed start to their one-game playoff against Bells in the Class 2A regional final on Friday in Prosper.
After Bells was held scoreless in the top of the first inninh, Muenster's Parker McGrew launched a three-run home run over the left-field green monster to instantly give the Hornets some margin for error on their way to a 12-2, six-inning run-rule victory that sent Muenster to its second straight state championship tournament.
The Hornets will next face Woden at 7 p.m. on Wednesday at Dell Diamond in Round Rock in a Class 2A state semifinal game.
It also marks the third state tournament Muenster has reached this season, football and basketball being the first two.
"I thought it took the pressure off everything just like it always does," head coach Josh Wheeler said of McGrew's early homer. "He knocked the crap out of that ball. He picked out a fastball and hit it. He's a good fastball hitter. When he gets his hand through it, he can hit a long way. He's one of the most talented kids we have by far."
Kagen Danglemayr singled and Carson Cheaney walked to set up McGrew's three-run bomb.
Bells scored in the second inning, but an RBI single from Cheaney gave the Hornets a 4-1 lead.
McGrew, who also was Muenster's starting pitcher, said it was nice to head back to the mound having given himself a cushion to work with.
"I'm glad I get to back myself up," McGrew said. "It's a lot more relaxing going out with a three-run lead than 0-0. That was a really good hitting team. Bells is a great ball club and they could still hit, but I felt more relaxed. ...I mean, those guys can hit."
McGrew said he felt pressure with a trip to the state tournament hinging on a one-game playoff, but felt as if his team's experience came into play.
"We've been in this situation before," McGrew said. "We don't get as nervous as we used to. We love this. We like the big light. I can tell everyone on this baseball team that we don't fold or anything. We stay composed and are ready to play some ball. If we're losing by two in the bottom of the seventh inning or winning by eight, we give it all we've got."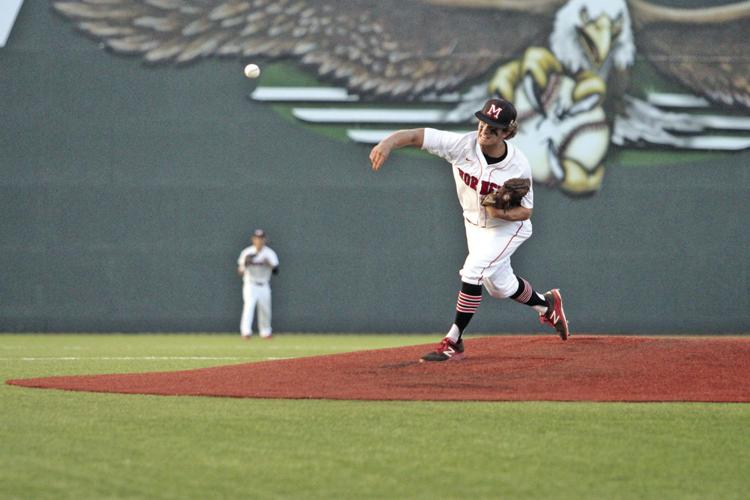 A sacrifice fly allowed Bells to cut the lead to 4-2 in the third inning, but that was it for Panther offense against McGrew.
"It was close, but it wasn't because we got his pitch count up," Wheeler said. "He threw nearly 40 pitches in the first inning, so there was no way he was going to make it the whole game. In the third inning, we did a good job because he got two quick outs but then we made him throw 20-25 pitches. I think he had a hard time out there."
Two back-to-back errors to start the bottom of the fourth inning forced Bells starter Hunter Hawthorne from the game and the Hornets immediately exploited the Panthers' bullpen.
An error throwing home by the Panthers' second baseman scored two runs to put Muenster up 6-2.
Danny Luttmer's infield single scored two runs to push the lead to 8-2 and then Clay Stevens' RBI single capped off a five-run inning.
Wheeler said the team felt in control for the rest of the game.
"When we get 6-8 runs, I feel good about it," Wheeler said. "I thought Bosqueville is the second best team in the region. We got ahead of Bells and we were able to run-rule them. After they made a few errors, it kind of tumbled and turned."
After Stetson McGrew tripled, Carson Trubenbach's RBI groundout gave the Hornets the 10-2 lead in the fifth inning. In the bottom of the sixth, Cheaney's two-run double ended the game and sent his teammates hurtling out to second base to dog pile him in celebration.
When asked why he stayed out of the dog pile, Wheeler said that he reserves that for winning a state championship.
"This year, we've got a different goal in mind. Last year, it was a big deal to win the region, but these kids have done that before," Wheeler said. "I think they want more and hopefully we win two more games."
Patrick Hayslip can be reached at sports@gainesvilleregister.com or on Twitter at @PatrickHayslip