From Austin to Alaska, organizers of the Texas 4000 for Cancer bike ride spent 18 months preparing for its 70-day trek across North America.
They've raised money, put in countless community service hours and brought attention to their cause of cancer awareness 
One of the three routes to Alaska stopped at Gainesville High School over the weekend to find a reprieve from the heat, restock on fuel and preserve the riders' energy. 
Two dozen of the total 69 riders were greeted by Gainesville ISD spokeswoman Leslie Crutsinger and Gainesville's mayor Jim Goldsworthy and were fed in the school's cafeteria as they gathered their strength. 
The "Rockies" trek is comprised of University of Texas students and one of them, Cindy Lee, just received her degree in nutrition. 
"When I first heard about Texas 4000 and biking to Alaska to fight cancer, I knew that was something I wanted to do," Lee said. "After I graduated college, this was something I was so passionate about.
"I wanted to do something about it and do something changeable. This is something we can all fight for."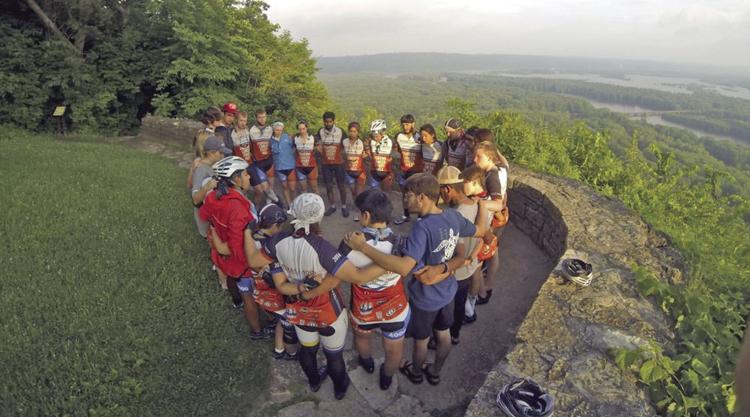 Before the Rockies set out for their ride in the morning, they get together and hold hands in what they call a dedication circle to speak about who they ride for. 
Lee, is riding for her grandmother, or "Halmoni" in Korean, who passed away in 2012.
"We've all got personal connections to cancer," Lee said. "I ride for my grandma, who was diagnosed with brain and oral cancer. We've lost loved ones to cancers. We all come from different majors and different states, but we all come together to fight and raise money for cancer."
Patricipants in the Texas 4000 have three motivational pillars — hope, knowledge and charity. 
Lee rides for knowledge.
"If we would have had more knowledge on the subject that it could have led to earlier detection and prevention," Lee said. "That was something I wanted to ride for. I also ride for hope, because [my grandmother] gave me a lot of hope. As I ride to Alaska, I know she is in me and her kindness lives through me."
Nayeon Kim rides for her father and for a friend named Micah who is battling breast cancer. 
"It'd definitely super emotional," Kim said. "It's really hard for me to talk about it, still. To have college students spend 18 months of our lives while we're in school shows we're really passionate. In college you don't have a lot of time, so you have to be really selective with what you do with your time. It says a lot for us to be able to do this."
Gainesville represented just the fifth day of riding for the group, which will ride through Colorado, Utah, Idaho, Wyoming and Montana before crossing over to Canada. 
They also have their sights set on seeing American and Canadian national parks including Rocky Mountain, Grand Teton, Yellowstone, Glacier and Banff.
Kim said the entire group was extremely appreciative of their host cities. 
"It's so nice," Kim said. "If Gainesville High School, Leslie Crutsinger and the mayor didn't host us, we'd be camping in this horrible heat. Here, we've got air conditioning and they've provided dinner and breakfast for us, and that's great because we don't have to spend the organization's money and we can give that money to more organizations." 
Lee said she has appreciated connecting with people at each stop and spreading their cancer message. 
"I think the whole point of it is that we're there for each other," she said. "The first part of [the ride has] been amazing. It's more than what I expected. Everyone's generosity was so touching." 
Two of the main challenges to Lee so far have been the warm weather and getting donations for food.
"We've raised over $4 million over 15 years," Lee said. "We want to raise more than that. Yeah, it's hot and it's been hard. All the hills are brutal, but it's nothing compared to what [cancer patients] go through. We want to show that we are here for them and we want to share our message."
When Lee first started at college she heard about Texas 4000, but she was apprehensive. 
"I thought, there's no way I going to do that," Lee said. "Me? No. Because this is my first year riding a bike. I'm more of a runner than an cyclist. Nothing could hold us back because we want to get involved in this fight against cancer. We're just so proud of everyone."
Kim said she heard the first two weeks of the trip were tough, but felt she would adjust to it. The group finished its training in May, before riders were able to acclimate to summer heat. 
Along with some extremely sore thighs, Kim said the struggles that come with a 70-day trek through North America are more easily conquered with a cause in mind. 
"There are some definitely really challenging days," Kim said. "We have some really long days ahead of us, especially with the heat, which will be really hard. But what I think powers us through it is we're doing this for a reason. It gives us motivation when we're struggling. I don't thinkI'd be able to do this without this reason."
Patrick Hayslip can be reached at sports@gainesvilleregister.com or on Twitter at @PatrickHayslip