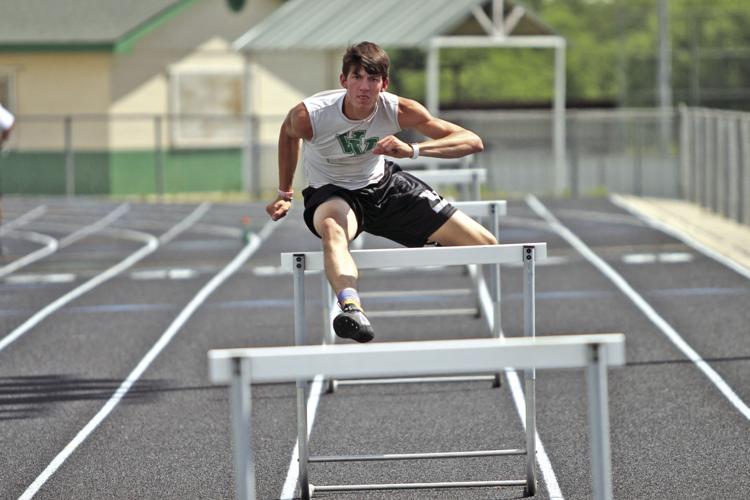 Valley View's Cale Kassen had a special moment with his family after his final event at the Class 2A state track meet at Mike A. Myers Stadium in Austin.
Kassen's family makes a point not to build him up too much to keep him grounded and motivated, but after he got done setting his second state record of the day in the 300-meter hurdles, Kassen's father Alan gave him a big hug and told him how proud of him he was.
His mother Marla had tears running down her face.
That moment with his parents and the rest of his family was one Kassen will never forget.
"It was really awesome because they knew I could do good, but they never knew I could run those kind of times," Kassen said. "I gave my dad a hug and he told me he was proud of me and I almost started crying because I've never heard that from anyone in my family. They don't want to show any sympathy. They want to show me what it takes to be a winner."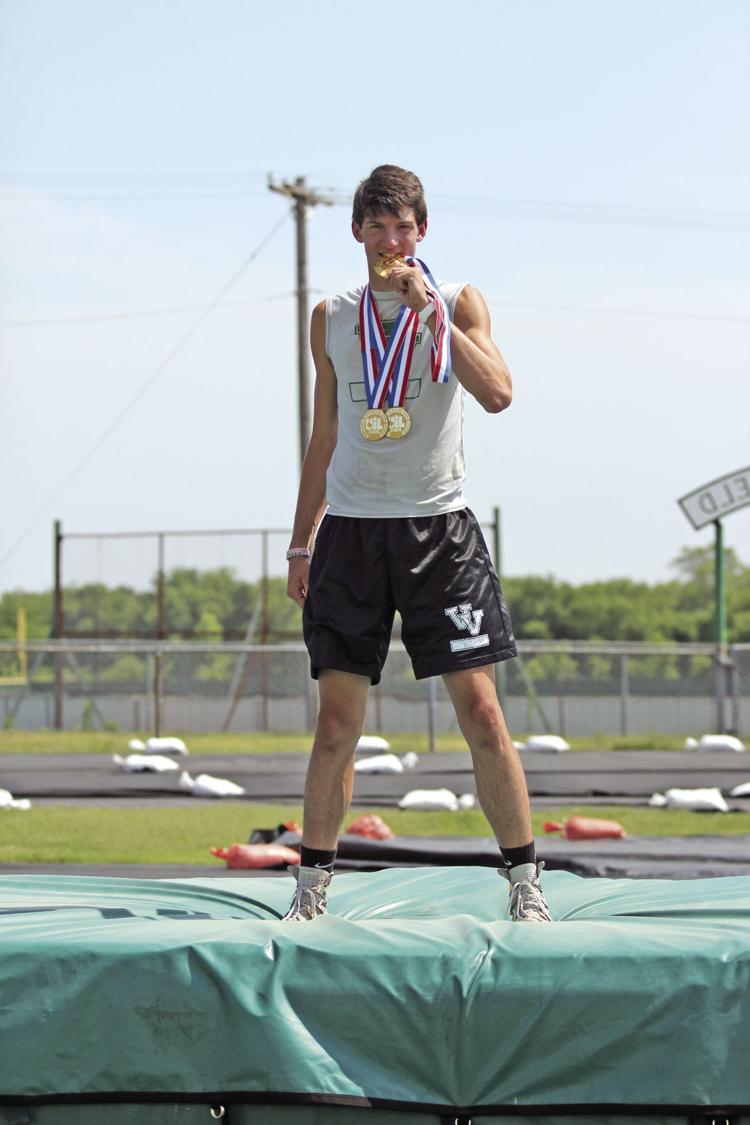 Alan Kassen, who is the head football coach at Valley View, said it is by design to not build him up too high because he knows that Cale is capable of much more.
Still, he wasn't going to pass on this moment.
"The main thing is as parents is we try not to celebrate every thing our kids do because they'll expect life to be that way," Kassen said. "You're going to have highs and lows in athletics just like you'll have highs and lows in life. I told him I was proud of everything he accomplished this year and the main reason was because he did exactly what his coaches asked him to do."
Cale Kassen's brother AJ was also a track star and Alan Kassen said he couldn't ask for much more as a father.
"His entire family and friends are so happy for him and have supported him so well," Kassen said. "Part of that is what makes him work hard because he knows people are cheering for him."
Picking up a bronze medal in last year's state meet, Cale Kassen hauled off with three gold medals this time around.
He began his meet with a gold medal in the high jump and Kassen said it was a "dogfight" with local rival Joshua Wallace from Lindsay.
Wallace finished in second place with his jump of 6-8 while Kassen came out on top with his jump of 6-10.
"We both had the same exact amount of misses, but I cleared 6-10 and he couldn't," Kassen said. "He was a really good inspiration. He was helping me through the entire thing and we were telling each other what to work on. It wasn't like we were competing against each other. We were competing with each other to make each other better."
The next day was the running events and Kassen set the Class 2A state record with his time of 13.91 in the 110-meter hurdles.
"It was after the 110-meter hurdles that I got the first gold medal of the day that all my nerves went away," Kassen said. "I thought, I got this. As long as I run my race and do what I've been trained to do, I'll be fine. I put my faith in God and let him take over. He led me in the right direction."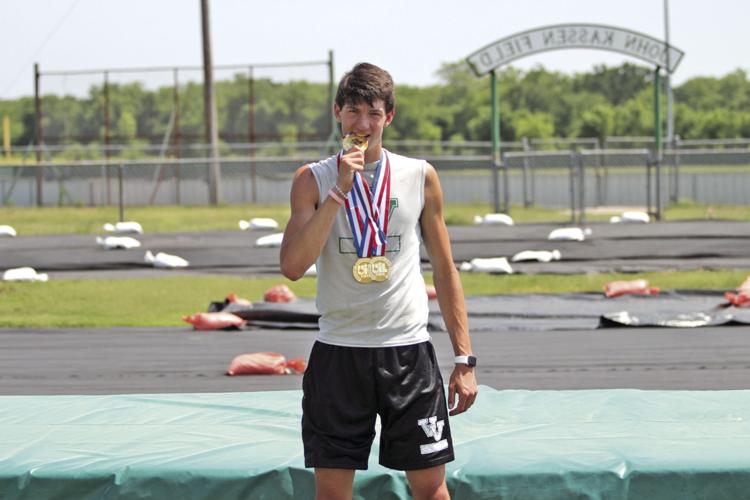 Despite setting the record, Kassen actually turned his foot early on in the race but rebounded to beat Wallace again.
"That slowed me down, but once I got back on track, there was no looking back," Kassen said. "There is something you can always do better on and my foot placement was an example. I just had tunnel vision and after the last hurdle, I didn't see anyone in my peripheral vision and that was a great feeling."
In the 300-meter hurdles, Kassen's time of 37.10 also earned him a state record as he defeated Milano's Devonte Jones by 1.52 seconds.
Kassen said it finally hit him after that race about just what he had accomplished.
"When I looked at the scoreboard each time, I could not believe I ran that fast," Kassen said. "I was kind of happy, but I thought it could be a malfunction. Once I saw everybody's times, I just went crazy because it was one of the best feelings I've had in a long time. I was kind of sad I was doing track, but I was happy I made everybody proud because I thought I might disappoint everybody."
Kassen is entering his senior year and he said he knows breaking his own records and top times will be a tall task, but he is looking forward to battling with himself.
"I haven't had that many people close to my times, but ultimately I'm not trying to beat them," Kassen said. "I'm just trying to improve myself and compete with myself. I've just been working out nonstop to push myself to be better. I can't wait until next year because I know I can be better."
With collegiate attention from Oregon, Texas A&M, Texas Tech, Oklahoma State, Air Force and Angelo State, Kassen has a bright future.
He said he still has to improve his jumping, quickness, explosiveness and his overall speed if he's going to get a scholarship, but for now, he is enjoying making his family proud and his final year at Valley View High School.
Patrick Hayslip can be reached at sports@gainesvilleregister.com.